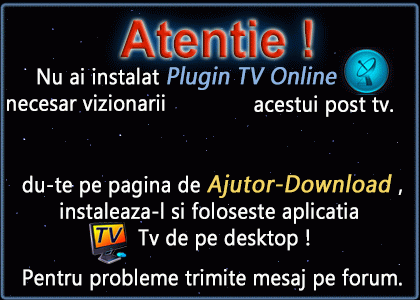 Despre NatGeo Tv Live:
In September 1997, the world's first National Geographic Channel was launched in the United Kingdom, Europe and Australia.[1] In July 1998, National Geographic Channel Asia was launched in partnership and distribution with STAR TV (Before replacing NBC Asia Channel. The same happened in NBC Europe's demise in 1998). Today, the channel is available in over 143 countries, seen in more than 160 million homes and in 25 languages.
In the United States, National Geographic Channel, launched on January 12, 2001, is a joint venture of National Geographic Television & Film and Fox Cable Networks. National Geographic provides programming expertise and the Fox Networks Group provides its expertise on distribution, marketing, and ad sales.
In Canada, the channel (National Geographic Channel (Canada)) is owned by Shaw Media and National Geographic Channel USA, while the European versions are operated in partnership with Fox's sister company, British Sky Broadcasting (BSkyB), which has since sold to Fox in 2007. This includes an English language version for the UK, Iceland and Republic of Ireland, which is carried on BSkyB's own Sky Digital pay TV service and also on TalkTalk TV in the UK, Sky Digital, UPC, Magnet Networks, SCTV in the Republic of Ireland and Skjarin in Iceland.
In Australia, National Geographic Channel is carried by Foxtel, Optus, Austar, Neighbourhood Cable, TransTV, and SelecTV. The Australian version includes Australian guest presenters of promotional material and to introduce certain programs, series and specials.
In New Zealand, National Geographic Channel is broadcast on SKY Network Television and TelstraClear InHomeTV.
In South Africa, the channel is carried by Digital Satellite Television (also known as DStv) is MultiChoice's multi-channel digital satellite TV service in Africa.
In the Middle East, an Arabic version is broadcasting free to air on Nilesat as National Geographic Abu Dhabi. It is co-owned by the National Geographic Society/Fox International Channels and Abu Dhabi Media Company.
Tags:
NatGeo Tv, tv live, doscumentary
Disclaimer:
cool-etv.net nu emite si nici nu detine control asupra emisiei posturilor tv din acest site.
Drepturile asupra continutului si al marcilor apartin detinatorilor de drept.
Site-ul este o interfata de promovare si dezvoltare a tehnologiei actuale.
Aici puteti viziona online posturile TV din Romania ce transmit pe internet. Fiind transmise live pe internet, aceste posturi pot
fi receptionate atat de romanii din tara, cat si de cei de afara, insa necesita o conexiune la internet buna