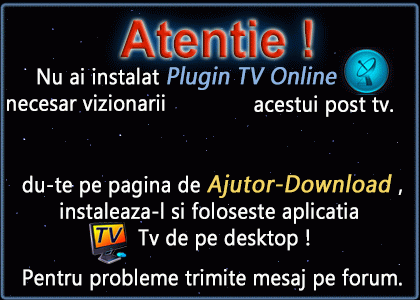 Despre History Tv Live:
History, formerly known as The History Channel, is a US-based international satellite and cable TV channel that broadcasts a variety of scripted reality television and other content, evolved from its origin showing documentary programs including those of fictional and non-fictional historical content, together with speculation about the future.
Filme istorice, seriale si documentare despre istorie, enigme, mistere live
Tags:
History Channel live, mister, mistery
Disclaimer:
cool-etv.net nu emite si nici nu detine control asupra emisiei posturilor tv din acest site.
Drepturile asupra continutului si al marcilor apartin detinatorilor de drept.
Site-ul este o interfata de promovare si dezvoltare a tehnologiei actuale.
Aici puteti viziona online posturile TV din Romania ce transmit pe internet. Fiind transmise live pe internet, aceste posturi pot
fi receptionate atat de romanii din tara, cat si de cei de afara, insa necesita o conexiune la internet buna
Copyright © 2012 cool-etv.net