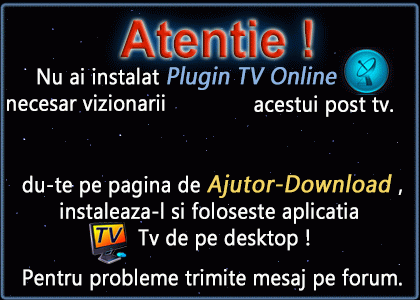 Despre Cartoon Network Tv Live:
Cartoon Network este un canal de televiziune din SUA care difuzează desene animate, fiind lansat pe 1 octombrie 1992. Serialele animate ale postului sunt recepționate în toate colțurile lumii, iar în unele țări sunt dublate. Cartoon Network este difuzat din Varșovia, Polonia în Europa Centrală în trei versiuni audio: poloneză, maghiară și română, de la 1 septembrie 1998. Cartoon Network este difuzat 15 ore pe zi (7.00–22.00 CAT), iar TCM (Turner Classic Movies) este difuzat în restul de 9 ore (22.00–7.00 CAT). Din data de 4 ianuarie 2008, Cartoon Network și TCM sunt transmise 24 ore din 24 ore pe platforma digitală Dolce. Pauzele publicitare sunt, în România, în limba română, iar în Ungaria și Polonia, pauzele publicitare sunt în limba poloneză.
Cartoon Network (abbreviated CN, operated by The Cartoon Network, Inc.) is an American cable television network owned by Turner Broadcasting which primarily airs animated programming. The channel was launched on October 1, 1992, after Turner purchased the animation studio Hanna-Barbera Productions in 1991. It was originally a 24-hour outlet for classic animation properties from the Turner Broadcasting libraries and was all-ages-oriented, but now the channel targets kids and teens with mature content handled by its Adult Swim division.
It also broadcasts many shows, ranging from action to animated comedy. Original series started in 1994 with Space Ghost Coast to Coast, along with Cartoon Cartoons original programs like Cow & Chicken, Dexter's Laboratory, I Am Weasel, Johnny Bravo, Ed, Edd n Eddy, and Courage the Cowardly Dog. In 2009, it started airing live-action programming, including movies from Warner Bros. and New Line Cinema. The network celebrated its 20th birthday; this celebration started on October 1, 2012, and ended on November 4, 2012.
Tags:
CartoonNetwork Tv, desene animate, best cartoons, filme pentru copii, tv for kids
Disclaimer:
cool-etv.net nu emite si nici nu detine control asupra emisiei posturilor tv din acest site.
Drepturile asupra continutului si al marcilor apartin detinatorilor de drept.
Site-ul este o interfata de promovare si dezvoltare a tehnologiei actuale.
Aici puteti viziona online posturile TV din Romania ce transmit pe internet. Fiind transmise live pe internet, aceste posturi pot
fi receptionate atat de romanii din tara, cat si de cei de afara, insa necesita o conexiune la internet buna
Copyright © 2012 cool-etv.net