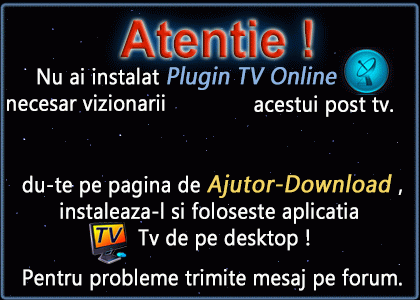 Despre Animal Planet Tv Live:
Animal Planet este un post de televiziune , care transmite documentare referitoare la lumea animală .
Animal Planet was created in cooperation with the BBC by Discovery Communications on October 1, 1996.
On January 1, 1997, Animal Planet's distribution grew as a result of Discovery Communications buying the channel space of WOR EMI Service (a national feed of New York's WWOR-TV ), that was implemented in the light of the SyndEx laws enforced by the Federal Communications Commission (FCC).
Tags:
Animal Planet Tv, deocumentare cu animale, animals live, caini si pisici, cezar si cainii
Disclaimer:
cool-etv.net nu emite si nici nu detine control asupra emisiei posturilor tv din acest site.
Drepturile asupra continutului si al marcilor apartin detinatorilor de drept.
Site-ul este o interfata de promovare si dezvoltare a tehnologiei actuale.
Aici puteti viziona online posturile TV din Romania ce transmit pe internet. Fiind transmise live pe internet, aceste posturi pot
fi receptionate atat de romanii din tara, cat si de cei de afara, insa necesita o conexiune la internet buna
Copyright © 2012 cool-etv.net